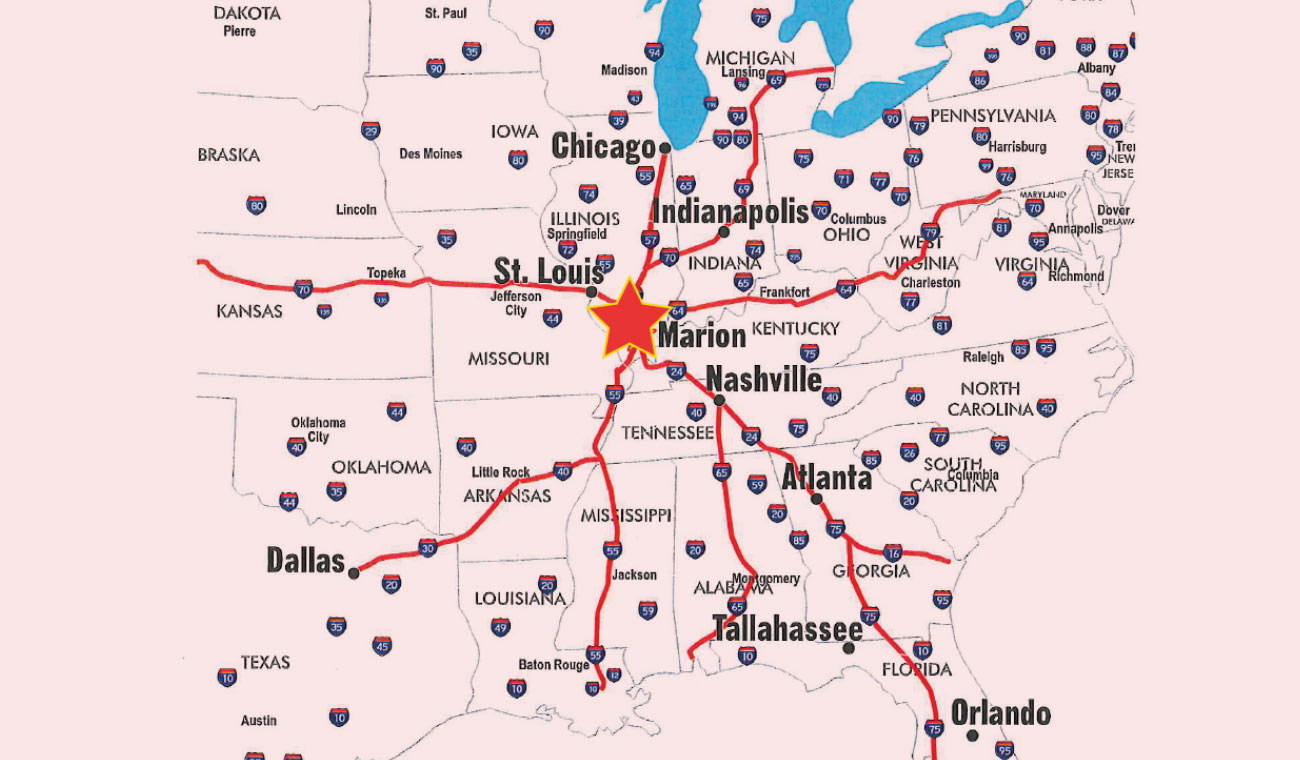 Business Advantages in Southern Illinois
Experience the Advantages of Southern Illinois for Your Business:
About: Williamson County lies in the heart of the Southern Illinois region know as "Little Egypt," an area stretching from Interstate 64 on the north to the confluence of the Mississippi and Ohio Rivers on the south. The Mississippi marks the western boundary with Missouri, the Wabash provides the eastern border with Indiana and the Ohio separates the area from Kentucky on the south.

 

Perfect Location: Williamson County lies in the heart of Southern Illinois, at the crossroads of major roadways. This prime position ensures easy access for your business and attracts both tourists and customers.
Ample Development Space: With over 500 acres available for development in five industrial parks, Williamson County offers the ideal opportunity for expanding your operations.
Substantial Investment: Over $300 million has been invested in new facilities and equipment, showcasing a commitment to growth and innovation.
Top-notch Workforce Training: Benefit from exceptional educational institutions like Southern Illinois University, John A. Logan College, and more, providing specialized training for your workforce.
Diverse and Skilled Workforce: Williamson County boasts an extensive and diverse population, providing a rich pool of talent for your company's needs.
Strategic Transportation Access: Immediate access to Route 57 and Route 24 enables efficient transportation and distribution of goods.
Convenient Air Travel: Take advantage of nearby airports in St. Louis and the Veteran's Airport of Southern Illinois for seamless business travel.
Make the move to Southern Illinois, specifically Williamson County, and unlock the advantages of its prime location, ample development opportunities, skilled workforce, and excellent infrastructure. Position your business for success and growth in this thriving business environment.
"We are routinely amazed at how well the local and state communities and governments work together to continually improve for business operations in the local area. Their cohesive teamwork is evident in the infrastructure, business-friendly environment, and stable foundation for each of our 3 Marion, IL locations."
– William D. Cox
SHRM-SCP, Senior Vice President, Administration, Aisin Holding of America, Inc.
Locate Your Business in Southern Illinois.
Contact REDCO at 618-998-8252 or Redco@redco.org
Resources For Businesses
– State of Illinois Business Portal
– Illinois Development Council
– Illinois Tax Increment Association
– I-39 Logistics Corridor
Facts Sheet PDF