Southern Illinois
The Land Of
Opportunity
We Are The Regional Economic Development Co. For Williamson County Located In The Heart Of Southern Illinois.
Why Williamson County
The Choice Location In America's Heartland
Williamson County
THE CHOICE LOCATION IN AMERICA'S HEARTLAND
Strategic Location
Williamson County lies in the heart of the southern Illinois region known as "Little Egypt," an area stretching from Interstate 64 on the north to the confluence of the Mississippi and Ohio Rivers on the south. The Mississippi marks the western boundary with Missouri, the Wabash provides the eastern border with Indiana and the Ohio separates the area from Kentucky on the south.
---
Nearly 500,000 people live in the 16 Illinois counties that lie within a 50-mile radius of Williamson County, the heaviest populated county at 66,357 residents. (The population swells to more than half a million when the Paducah, Kentucky and Cape Girardeau, Missouri areas, both less than 50 miles from Williamson County, are included in the economic trade region.)
---
The county is bisected east and west by Interstate 57 and north and south by Illinois Route 13, both 6-lane divided highways. St. Louis, Missouri is 120 miles northwest via Interstates 57 and 64, while Nashville, Tennessee is 170 miles southeast via Interstates 57 and 24. Ten of the major population centers in the Midwest—Chicago, Cincinnati, Des Moines, Evansville, Indianapolis, Kansas City, Little Rock, Memphis, Milwaukee and Louisville—are all within a day's drive of Williamson County.
Communities
Cities within a days drive from Williamson County
Chicago
Cincinnati
Des Moines
Evansville
Indianapolis
Kansas City
Little Rock
Louisville
Memphis
Milwaukee
Nashville
St. Louis
Neighboring States
Missouri
Indiana
Kentucky
Tennessee
Arkansas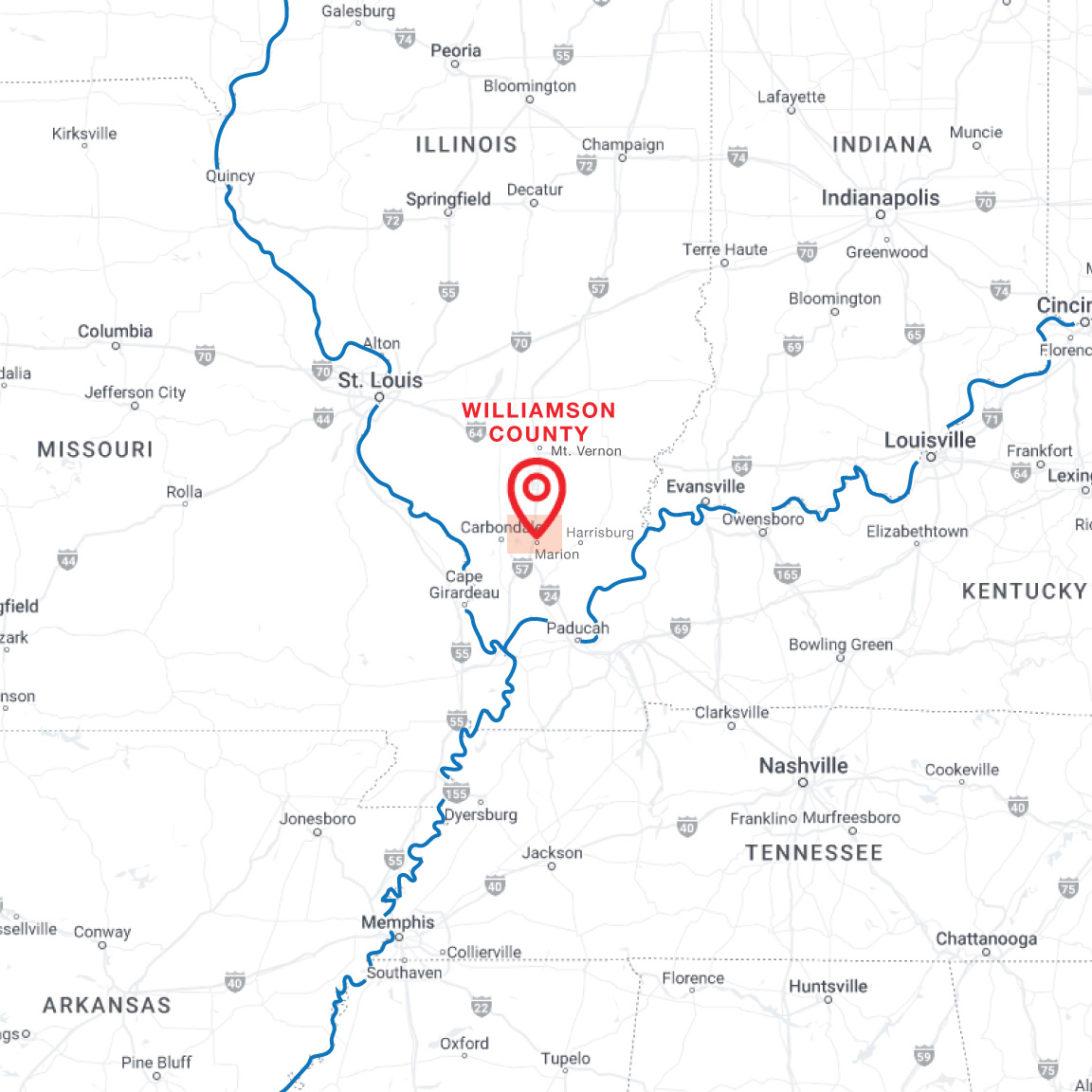 REDCO Sites Available
in Williamson County, Illinois
Contact Us
At REDCO, we are committed to helping businesses thrive in Southern Illinois. Contact an officer for more information.
Contact Us