Location &
Infrastructure
Strategic Location
Williamson County lies in the heart of the southern Illinois region known as "Little Egypt," an area stretching from Interstate 64 on the north to the confluence of the Mississippi and Ohio Rivers on the south. The Mississippi marks the western boundary with Missouri, the Wabash provides the eastern border with Indiana and the Ohio separates the area from Kentucky on the south.
Nearly 500,000 people live in the 16 Illinois counties that lie within a 50-mile radius of Williamson County, the heaviest populated county at 66,357 residents.  (The population swells to more than half a million when the Paducah, Kentucky and Cape Girardeau, Missouri areas, both less than 50 miles from Williamson County, are included in the economic trade region.)
The county is bisected east and west by Interstate 57 and north and south by Illinois Route 13, both 6-lane divided highways.  St. Louis, Missouri is 120 miles northwest via Interstates 57 and 64, while Nashville, Tennessee is 170 miles southeast via Interstates 57 and 24.  Ten of the major population centers in the Midwest—Chicago, Cincinnati, Des Moines, Evansville, Indianapolis, Kansas City, Little Rock, Memphis, Milwaukee and Louisville—are all within a day's drive of Williamson County.
Williamson County
Southern Illinois
Communities
Bordering Counties
Franklin County (North)
Saline County (East)
Pope County (Southeast)
Johnson County (South)
Union County (Southwest)
Jackson County (West)
Interstates & Highways
Interstate 24
Interstate 57
U.S. Highway 45
Illinois Route 37
Illinois Route 13
Illinois Route 148
Cities within a days drive from Williamson County
Chicago
Cincinnati
Des Moines
Evansville
Indianapolis
Kansas City
Little Rock
Louisville
Memphis
Milwaukee
Nashville
St. Louis
Neighboring States
Missouri
Indiana
Kentucky
Tennessee
Arkansas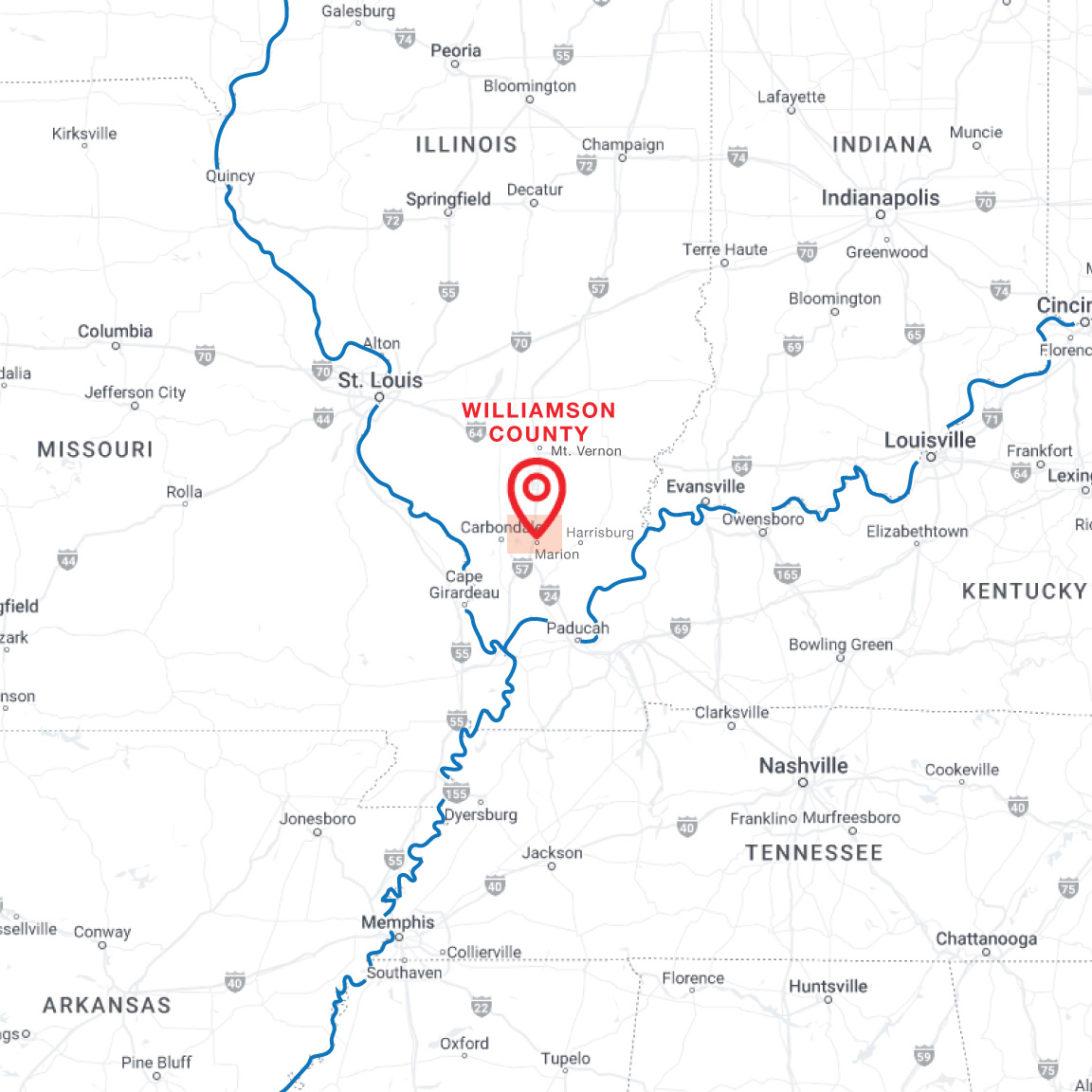 Infrastructure
A business or industry considering a location in Williamson County will take advantage of the many infrastructure benefits that exist in the county. The county is strategically located in the heart of Southern Illinois and has vehicular, air and rail opportunities located within the county, as well as water transportation available within a 50 mile radius. Because its population is the largest of the 25 counties of southern Illinois, Williamson County has excellent telecommunications links. Numerous telephone, wireless and broadband providers service all communities in the county. National and local radio and television stations guarantee complete coverage within the county. AmerenCIPS and Southeastern Illinois Electric Cooperative provide ample electric services to the county, with AmerenCIPS providing access to natural gas services.
Transportation
Highway Transportation
Two vehicular transportation arteries, Interstate 57 and Illinois 13, intersect in the heart of Williamson County and provide highway access to the rest of the nation. In addition, interstate highway 24 intersects I-57 in the southern part of the county and I-64 is only 30 miles north of the county near Mt. Vernon, Illinois plus routes 37 and 148 also run north and south in the county. A network of all-weather county roads crisscross the county and provide easy access to all areas.
Air Transportation
The Williamson County Regional Airport is located at the intersection of Illinois Routes 13 and 148. This full-service facility has an 8000+ foot runway and can service all types of aircraft. Cape Air provides six daily flights to and from St. Louis, MO, Cape Girardeau, MO, Nashville, TN, and Chicago, IL opening travelers from Williamson County to airline connections in a major midwestern transportation hub.
Rail Transportation
Williamson County is home to the Crab Orchard and Egyptian Railroad (CO & E), a local short-line railroad providing cargo transport to and from two major U. S. rail carriers, the Burlington Northern Santa Fe Railroad and the Union Pacific Railroad. Cargo can be placed on these carriers and taken to any destination in the continental United States, as well as Mexico and Canada. The CO & E cooperates with local transload operations, providing shippers with the opportunity to combine truck and rail to obtain the best possible tariffs.
Port Transportation
The Jackson-Union Regional Port District is located less than 35 miles from the county's western boundary and the Shawneetown Regional Port District is only 50 miles from the county's eastern boundary, providing barge transportation opportunities on both the Mississippi River system and the Ohio River system. This effectively provides access to the world through ports on the Gulf of Mexico and the Atlantic Ocean.
Telecommunications
Williamson County telecommunications service is provided by Verizon, with long-distance provided by numerous national and local carriers. Over 25 companies offer computer users high-speed internet access via broadband, wireless, T-1 and other recent technologies.   Clearwave, EarthLink, Verizon, Comcast, Futiva and AT&T are among the telecommunications carriers serving Williamson County. Connect SI is a regional initiative built upon broadband connectivity, with the concept that dispersed assets can be connected to make southern Illinois a driving force in the world economy.
Utilities
Contact Us
At REDCO, we are committed to helping businesses thrive in Southern Illinois. Contact an officer for more information.
Contact Us